Welcome aboard
We have designed a wide and diversified set of services tought, in detail, to exceed your expectations.

DAILY TOURS
Embark on this journey and discover the beauty of the Costa de Sesimbra, its secrets and secret beaches.
Capacity: from 1 to 75 passangers
BACHELOR AND BACHELORETTE PARTIES
The perfect idea for the bachelorette party of your dreams.
Capacity: from 8 to 75 passangers
PRIVATE EVENTS
Gather friends and family for a trip along the coast of Sesimbra, your favorite destination.
Capacity: from 10 to 75 passangers
CORPORATE EVENTS
Gather your company and enjoy a unique experience with an exclusive catering service.
Capacity: from 25 to 75 passengers
SUNSET PARTIES
Spend the day in the best company and come see the best sunset.
Capacity: from 1 to 75 passangers
DOLPHIN WATCHING
Climb aboard and come see dolphins and other fantastic species.
Capacity: min. 6 passengers
BIRTHDAY PARTIES
Come celebrate your day in a unique experience.
Capacity: from 12 to 75 passengers

Tour route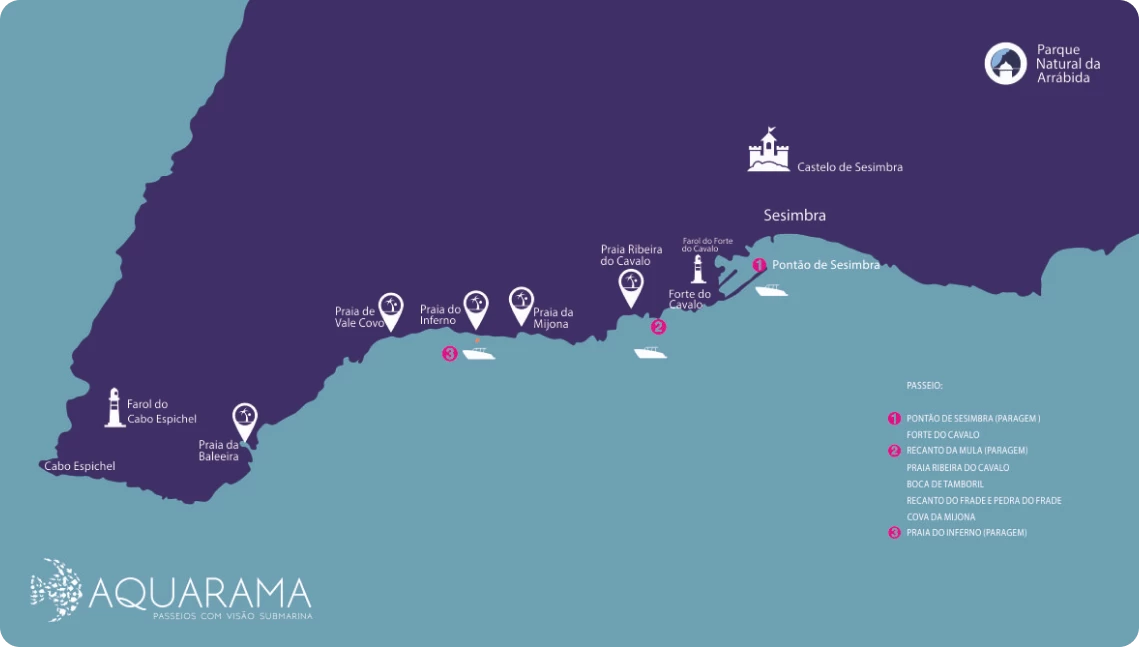 Tours FAQ

A memorable experience. Explore Sesimbra and observe the marine biodiversity through the panoramic windows to the seabed of the Boat APNEA. Filled with fun, this invigorating and didactic ride will provide you with the fresh air you need to break your routine.
The place of departure and arrival of the tour is the Port of Sesimbra or Ouro Beach Pontoon. During the trip, we pass by the Horse Fort, Ribeira do Cavalo Beach, Mijona Beach and Inferno Beach. The route has three stops to contemplate the surroundings and to be able to observe the marine species better, through the hull with glass windows.
The total duration of the circuit will be approximately 2 hours. The tours are usually in Portuguese and English.
A AQUARAMA - ACTIVIDADES MARITIMAS TURISTICAS, LDA reserves the right to cancel the scheduled tour on any tour due to weather conditions and / or rough waters - with the possibility of passengers being entitled to request a refund of the ticket price.
Impressed? Contact us
If you have any questions that you would like answered, please fill out the contact form below. We promise to be very quick in responding.